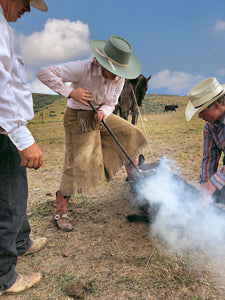 The Way the Cowboy Lives
Open range.
Big blue skies.
Whispers of the grass.
The gentle sway of a pony.
Good friends.
Big fat cattle.
Bridles jingle on beat.
Happy horses and joyful people.
Hard work.
On calloused hands.
For loving the reason.
The passion of a cowboy.
Keeping tradition.
Through those years.
When times got hard.
We stay true to tradition.
Be true.
To the family.
Be honest with neighbors.
Not ever sparing your loyalty.
Share stories.
Spread the news.
Of the ranch people.
The way the cowboy lives.
~Jessica Riley ~
#sharetheway #cowboys #ranching #ranchlife #knowyourworth #sunday #horses #keepamericacowboy #americancowboy #jbardcanvasandleather #bedroll #lifestyle #tradition #nfr #buckaroo
---